Home Page
Comprehensive Data
+

Tools to Support Your Research

Explore our phenotypic & genetic data for a particular mental disorder or explore our stem cell data.

New to the repository? Find everything you need to support your mental health research projects and grant applications.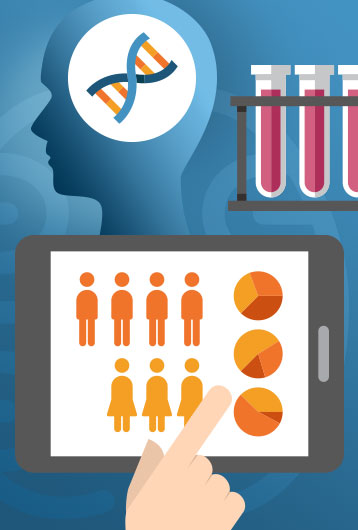 Featured Updates
February 17, 2023
Attention-Deficit Hyperactivity Disorder 2.0 is available with data from Study 51 (PIs: Todd; 5R01MH071629-02). This update adds 1700 individuals, all with DNA available. The distribution total is 7434 subjects, 6659 with DNA available.
July 18, 2022
NRGR has released updated versions of all existing disorder collections. These releases do not include new subjects. In the SZ and CT collection, there is a new genetic dataset submitted by Dr. Doug Levinson on previously released subjects. The Anorexia Collection has been renamed to Eating Disorders. Contact information within CAPS datasets has been updated to reflect an institutional change. All disorder collections have undergone an overhaul to the distribution file format, including addition of new columns, new values within existing columns, replacement of old values with new values, and updates to descriptions. Details are included within the change notes of each collection. Review additional details.
May 01, 2022
Mathematical Medicine LLC (MathMed) has taken over the curation of complex diagnostic instruments from what was previously the Battelle Center for Mathematical Medicine (BCMM) at Nationwide Children's Hospital. MathMed continues to be led by Dr. Veronica Vieland, former Director of the BCMM. For more information on MathMed visit here.
April 05, 2022
As of April 5th 2022 Infinity BiologiX LLC, Roylance Stability Storage Limited and Roylance Scientific Limited will be doing business as Sampled. When Infinity BiologiX was launched out of RUCDR Infinite Biologics in 2020, it was done so knowing that the time would be taken to re-evaluate our branding. This decision was taken to do justice to the level of support we offer clients and the integration of recently acquired Roylance Pharma. Read more in the press release here.
July 28, 2021
iPSC 11.0 released data on 111 new subjects from Study 136 (PI: Hallmayer; R01MH100900), Study 146 (PI: Wernig; R01MH092931), Study 159 (PI: Muotri; 1R21MH10777-01), Study 166 (PIs: Tesar, Miller, Findling; R21/R33MH087877), and Study 200 (PI: Morrow; R01MH105442). The collection contains 758 subjects with 571 FCLs, 417 iPSCs, and 8 OEs.
July 28, 2021
iPSC 10.2 released data on 11 new subjects from Study 160 (PI: Brennand; 5R01MH101454-02). The collection contains 642 subjects with 493 FCLs, 332 iPSCs, and 8 OEs.
June 30, 2021
Eating Disorders v3.01 released – Added 5,009 dbGaP linking ids to the alt_id file (alt_id_type = dbgap_id) for Study 129. The dbGaP Collection is phs001541.v1.p1.
May 18, 2021
Eating Disorders 3.0 is available with data from Study 96 (PIs: Attia, Steinglass; R01MH085921) and Study 129 (PI: Bulik; Anorexia Nervosa Genetics Initiative/ANGI Project). This update adds 5730 individuals, all with DNA available. The distribution total is 8624 subjects, 7300 with DNA available.